Thank you for making a reservation at Awajishima Mammoth.
In order to make your stay more comfortable, we have compiled the following information regarding parking, check-in, and other information.
Please note that check-in on the day of your stay is from 13:00 to 18:00.
If you have any questions, please contact us via facebook messager or email.

E-mail:cs-all@awajimammoth.com
Facebook:https://www.facebook.com/awajimammoth/
Parking and check-in procedures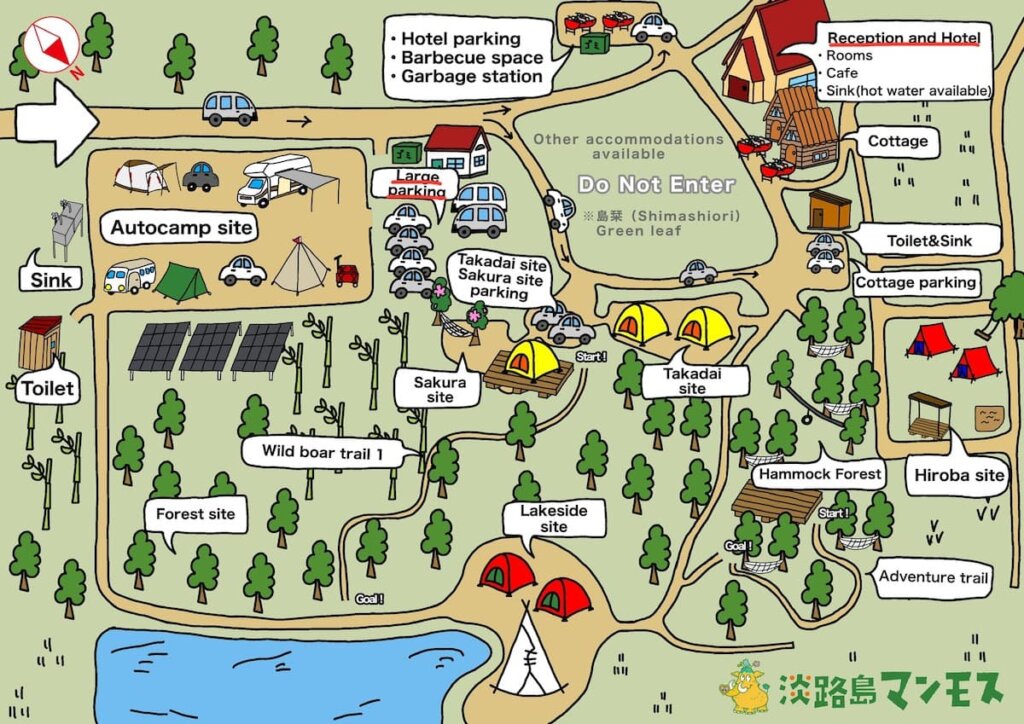 If you are a first-time visitor, please park your car in the large parking lot and come to the reception desk.
Repeat visitors may park in the reserved camp site parking lot and then come to the reception desk!
1)Park in the large parking lot and walk to the reception desk (100 meters)
2)Check in at the reception desk (5-10 minutes)
3)Return to the main parking lot and move to your site (1-5 minutes)
4)Start camping!
Items for sale, rental items, Wi-Fi
The following is a guide to the items for sale and rental at the reception desk, as well as the Wi-Fi password.
◯ Items for sale
Firewood, Awaji Island craft beer, soft drinks, snacks, etc. are available for sale at the simple stall at the reception desk.
◯ Rental
Fire pits and BBQ grills are available for rent. Please note that the number of rental items is limited.
◯ Wi-Fi
The signal of communication carriers other than docomo is very weak throughout Awajishima Mammoth.
Wi-Fi is available in all guest rooms, around the reception area, and at the auto site.
SSID: mammoth
Password: noasobi123
Nearest Store
Finally, here are some stores around Awajishima Mammoth.
In particular, stores are all located around the Tsuna Ichinomiya Interchange(IC), the nearest IC, which is a 10-minute drive.
Other stores and their distances from Awajishima Mammoth are as follows.
Tap the link to open Google Map.
*Times are the times required to drive from Awajishima Mammoth.
▶ FamilyMart Ichinomiya Taketani / 8 minutes
▶ 7-Eleven Awaji Nakada Store / 11 minutes
▶ Awatsuna Ichiba My Marche (Supermarket) / 12 minutes
▶ AEON Awaji (Supermarket) / 19 minutes
▶ Plant Awaji (Supermarket) / 19 minutes
▶ Welcia(Pharmacy) / 10 minutes
▶ Akai Yane (Farmers market)/ 11 minutes
▶ Komeri(DIY shop)/ 10 min
▶ Yu-Yu-Five(Hot spring bath)/ 19 min
▶ Parche(Hot spring bath)/ 18 min