Thank you for making a reservation at Awajishima Mammoth.
In order to make your stay more comfortable, we have compiled the following information regarding parking, check-in, and other information.
Please note that check-in on the day of your stay is from 15:00 to 18:00.
If you have any questions, please contact us via facebook messager or email.
E-mail:cs-all@awajimammoth.com
Facebook:https://www.facebook.com/awajimammoth/
Parking and check-in procedures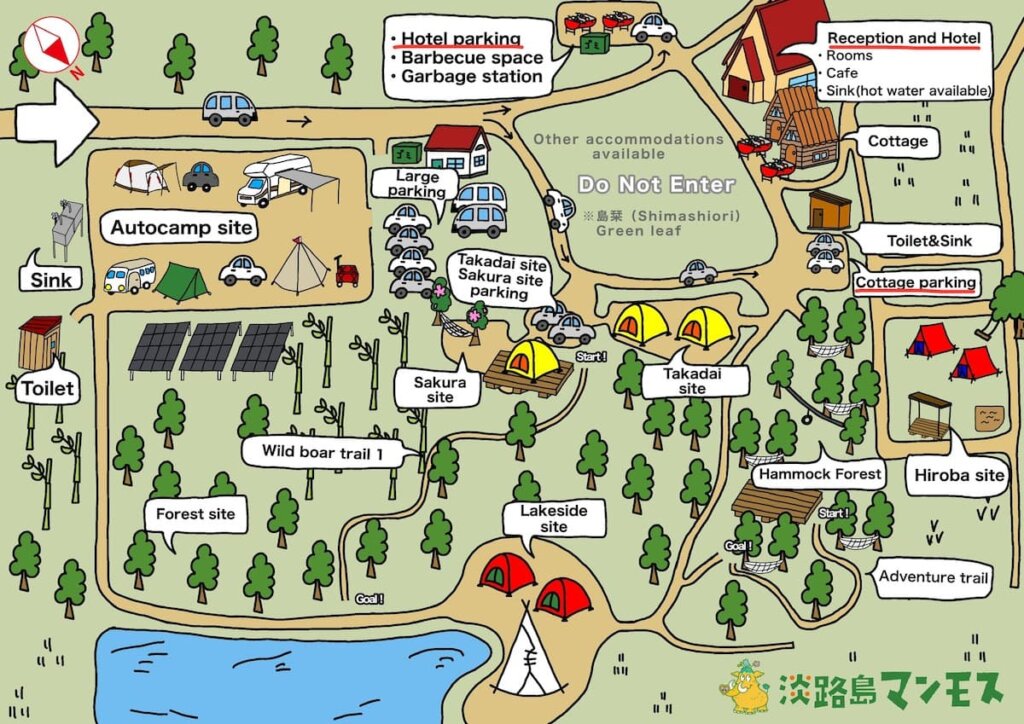 Private parking is available for both cottages and private rooms (Japanese-style rooms, Japanese-style rooms, and Western-style rooms).
The check-in process is as follows.
Park in the hotel parking lot or cottage parking lot
Check-in procedure at the reception desk (5-10 minutes)
Move to your room (2-3 minutes)
Start barbecue, bonfire, and nature play!
If you plan to barbecue, early check-in is recommended.
The barbecue space is available from 15:00 to 21:00.
*Reservations for barbecue tool sets and the option to bring your own tools are required to use the barbecue space.
Items for sale, rental items, Wi-Fi
The following is a guide to the items for sale and rental at the reception desk, as well as the Wi-Fi password.
◯ Items for sale
Firewood, Awaji Island craft beer, soft drinks, snacks, etc. are available for sale at the simple stall at the reception desk.
◯ Rental
Fire pits and BBQ grills are available for rent. Please note that the number of rental items is limited.
◯ Wi-Fi
The signal of communication carriers other than docomo is very weak throughout Awajishima Mammoth.
Wi-Fi is available in all guest rooms, around the reception area, and at the auto site.
SSID: mammoth
Password: noasobi123
Nearest Store
Finally, here are some stores around Awajishima Mammoth.
In particular, stores are all located around the Tsuna Ichinomiya Interchange(IC), the nearest IC, which is a 10-minute drive.
Other stores and their distances from Awajishima Mammoth are as follows.
Tap the link to open Google Map.
*Times are the times required to drive from Awajishima Mammoth.
▶ FamilyMart Ichinomiya Taketani / 8 minutes
▶ 7-Eleven Awaji Nakada Store / 11 minutes
▶ Awatsuna Ichiba My Marche (Supermarket) / 12 minutes
▶ AEON Awaji (Supermarket) / 19 minutes
▶ Plant Awaji (Supermarket) / 19 minutes
▶ Welcia(Pharmacy) / 10 minutes
▶ Akai Yane (Farmers market)/ 11 minutes
▶ Komeri(DIY shop)/ 10 min
▶ Yu-Yu-Five(Hot spring bath)/ 19 min
▶ Parche(Hot spring bath)/ 18 min